"When I'm In Holland, I Eat The Pannekoken..."Edit
Local Foods You Should TryEdit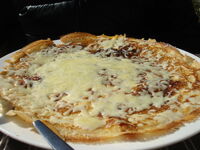 Pannekoken
Indonesian Food - Try a 'Rijsttafel' (Rice Table) to sample a variety of dishes
Jenever - Gin type drink
'Automat' style food from vending machines
Bitterballen - Seasoned, fried minced beef ball. Snack on these with your beer.
Poffertjes - Small, fluffy pancakes made with yeast and buckwheat flour sold at street corners and market stands.
Tiered: Where to Fuel Up Edit
Screaming BeansEdit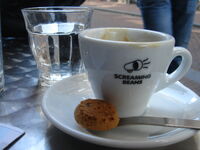 Placeholder
Hungry: Where to Fill Your BellyEdit
Good place for breakfast. They open at 8:30am and serve breakfast until noon.
Upstairs Pancake HouseEdit
Most famous pancake house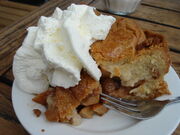 Consistently lauded as the best in Amsterdam, Winkel is famous for their deliciously sweet appeltaartje. Can be a zoo with people on the weekends. Albert Heijn is supposed to be a good alternative with no long lines.
Walk around market...
Location: Prinsengracht 126, 1015 EA Amsterdam
Cafe de JarenEdit
Placeholder
French/Dutch Place -- Name???Edit
Placeholder
Tempo Doeloe RestaurantEdit
One of the oldest and best Indonesian restaurants in Amsterdam.
Get the 'rice table' to sample a variety of dishes. Be careful of the really hot ones.
Location:
Note: Make a reservation.
Thirsty: Where To Wet Your LipsEdit
Cafe Int Aepjen (Monkey bar)Edit
One of the oldest bars in Amsterdam. Open 3pm - 1am (3am weekends).
Café de SluyswachtEdit
Placeholder - leaning building
In De WildemanEdit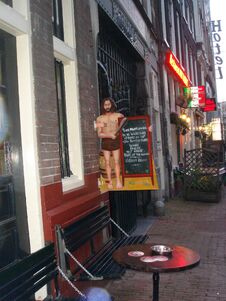 Placeholder
Location: Kolksteeg 3, 1012 PT Amsterdam
Tel: 020 638 2348
Website: indewildeman.nl
Curious: What To See & DoEdit
Electric Ladyland
Canal Tour
'Cafes' - Grey Area
Segway Tour